(Editor's note: Below is a copy of the Sporting Chance column written by fellow Lasallian Joaquin Henson for The Philippine Star last Nov. 25, 2010)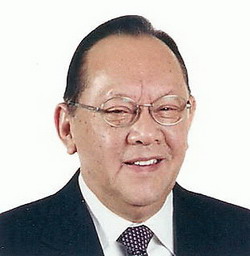 In a solemn ceremony at the Christian Brothers' private chapel on their fourth floor residence in the main De La Salle University building on Taft Avenue last Saturday, alumnus Eduardo (Danding) Cojuangco Jr. was recognized as a La Sallian Master for his "invaluable contributions to Philippine industry, management, education and corporate citizenship."
The exquisite glass plaque symbolic of the La Sallian Master award presented to Cojuangco by La Salle president Br. Narciso Erguiza and chancellor Br. Ricardo Laguda described him as a "distinguished businessman, philanthropist and sports advocate."
The word Master is an acronym for "Mavens, Stewards, Trailblazers and Entrepreneurs Resource." La Salle launched the award last June. The objective of the recognition is to honor La Salle alumni who have excelled in their chosen field and remained faithful to the La Sallian credo of "achievers for God and country."
What made the awarding extra special was it was done privately, without fanfare. Only the Christian Brothers and Cojuangco's family and close friends attended. A Holy Mass preceded the awarding which was held in the small chapel with a seating capacity of about 50. The solemnity of the gathering was accentuated by the exposition of a holy relic of St. John Baptist de La Salle, a bone encased in a glass repository flown in from overseas for the school's centennial celebration next year.
The Christian Brothers who attended the ceremony were Br. Edgar Nicodem, Br. Victor Franco, Br. Benildo Feliciano, Secretary of Education Br. Armin Luistro, Br. Erguiza, Br. Laguda, Br. Bernie Oca, Br. Michael Broughton, Br. Rolly Dizon, Br. Gus Boquer, Br. Joseph Scheiter and Br. Crisanto Moreno. Cojuangco's family was represented by his wife Gretchen, son Mark and wife Kimi, son Charlie, brother Henry, son-in-law Dr. Nick Cruz and grandchildren Paola, Santi, Sophie, Jaime and Claudia. Among his friends who came were Fr. Fernando Suarez, Mila Puyat, former Secretary of Finance Titoy Pardo, Tammy Campos, Sylvia Heras and Miguel Puyat.
Cojuangco entered La Salle as a kindergarten student in 1940, fondly remembering Juan Medrano as his first teacher. When World War II broke out the next year, Cojuangco went from school to school as his father, Eduardo Sr., then Tarlac Governor, was constantly on the move, evading the Japanese, staying only three months at a time in different homes. The family even reached Baguio where Cojuangco attended classes at St. Louis.
Because of the family's movements, Cojuangco attended several schools during his elementary days, including La Concordia, Sta. Ana parochial and the Paniqui public school. Later, he reflected that the experience left a lasting impression in his mind as he cherished the memory of going to school with the less fortunate. It gave him the inspiration to establish a foundation which today, provides scholarships to thousands of college students and public school teachers pursuing Masteral and doctorate degrees.
Eventually, Cojuangco returned to La Salle where he graduated from high school in 1952. One of his mentors was Horacio Cebrero, later La Salle high school principal. After graduating at La Salle, he enrolled at UP Los Baños and completed his tertiary education at California Polytechnic College in San Luis Obispo.
La Salle will always have a special place in Cojuangco's heart. He recalled being an acolyte and a member of the Junior Police conducting traffic on Taft Avenue. He recalled memorable moments with Brs. Athenaesius, Dennis and William and going on retreat at the La Salle house in Baguio. His brother Henry, now a Tarlac congressman, played for the La Salle juniors in the NCAA and another brother Manoling earned a college degree in Taft.
Cojuangco followed in his father's footsteps and became Tarlac Governor. He also was a congressman of the first district of Tarlac. Today, he is the chairman and chief executive officer of San Miguel Corp., the largest food and beverage conglomerate in Southeast Asia.
Cojuangco was awarded the Legion of Honor by the Philippine government and dubbed Knight of the Order of St. Sylvester by the Vatican. He has also received honorary doctorate degrees from the University of Mindanao, Tarlac College of Agriculture and the University of Negros Occidental-Recoletos.
Pages: 1 2