Dear friends and fellow La Sallians, Please join us every 3rd Thursday of the month at Intramuros for an ongoing Tambayan, where local folks and Bay Area LaSallistas meet up for a round of beers and fun.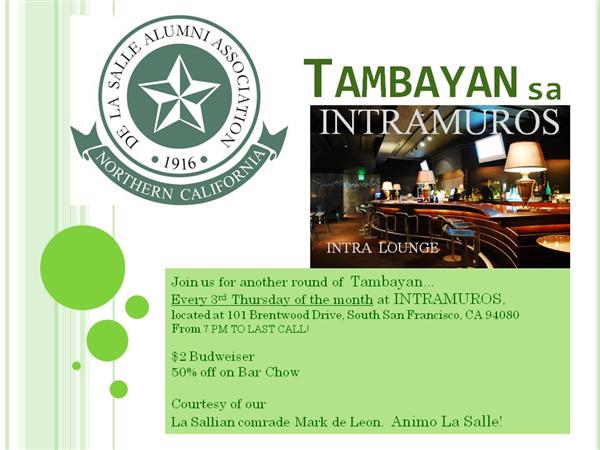 Every 3rd thursday of the month.
Feb. 17
March 17
April 21
May 19
June 16
July 21
August 18
September 15
October 20
November 17 (No Tambayan, due to Thanksgiving Day)
December 15
Many thanks to Mark de Leon for making this happen! Also, let us return the favor by supporting David Benoit, in concert at Intramuros on February 12th, 2011. Don't forget and save the date…Tambayan on January 20th at 7pm and every 3rd Thursday of the month and on February 12th, David Benoit at Intramuros!
Maraming Salamat Po and Happy New Year to all!
Irvin Sevilla
President
De La Salle Alumni Assoc. of Northern California
LSGH -GS 81, HS 85
Irvin Sevilla,
irvin_s@comcast.net
CA USA – Wednesday, January 19, 2011 at 6:39:12 AM PST