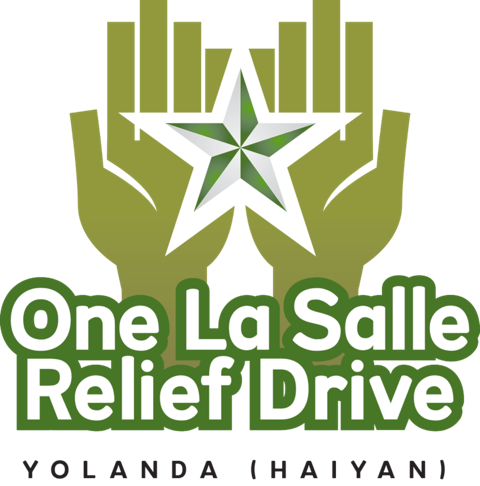 In response to this disaster, De La Salle Philippines has announced the following:
The Philippine Lasallian Family is banding together once again for relief operations for our fellow Filipinos who were affected by Super Typhoon Yolanda. Various La Salle Schools have begun taking in donations and volunteers.
De La Salle Philippines
DLSP willingly accepts any form of donations (preferably rice, food in packs, bottled water, mats and clothes), these can be delivered to:
DE LA SALLE PHILIPPINES
Central House
343 Ortigas Ave, Mandaluyong (inside La Salle Greenhills)
c/o Advancement or Keane Palatino
Monetary Donations
For cash and check donations, you may deposit to any of the following accounts at any branch:
A. RCBC Bank (NOT RCBC Savings):
Account Name: De La Salle Brothers, Inc. – Yolanda
Peso Account: 1296-714778
US Dollar Account: 8296-001156
Swift Code: RCBC PHMM
B. Planters Development Bank
Account Name: De La Salle Brothers, Inc.
Savings Account Number: 0051-900-464
Name of Branch: Greenhills, San Juan
We request you to email the validated deposit slip to bee.cruz@delasalle.ph for proper acknowledgment and issuance of official receipt. You may also opt to fax it to +63 2 721 5049.
For more information, you may contact Keane Palatino (+63 917 500 5323) or Gladstone Cuarteros (+63 917 843 9468).
Below are specific details of the relief drives of the La Salle Schools:
De La Salle Santiago Zobel School
DLSZ is accepting relief donations at Gate 2, 3. & 7. Preferably rice, noodles, canned goods, bottles water & mats. For cash donations for relief & post rehabilitation: Please deposit to the school's account below and send a scanned copy of the deposit slip to lesacasr@dlszobel.edu.ph and jacintojn@dlszobel.edu.ph for proper acknowledgment.
Account Name: De La Salle Santiago Zobel School
Bank Address: Union Bank of the Philippines, Ayala Alabang Branch
Peso Account: 018030006691
US Dollar Account – 018101009418
Please call or text Mr. Jayjay Jacinto at +63 917 859 7602 and Ms. Evangeline De Peralta at +63 917 563 8870 for queries.
DE LA SALLE UNIVERSITY
We are asking Lasallian for donations. This can be done through any of the following means:
For in-campus donation (cash or in-kind):
Deposit it through the DLSU Cashier. Inform them to credit your donations to the DLSU Relief Fund (Acct # 600-135).
Please do not forget to send one copy of the official receipt to Ms. Jan Trampe of COSCA for proper acknowledgement.
Send all of your in-kind donations to COSCA.
You may go to any UCPB Branch and deposit to:
For off-campus donation (peso):
Account Name: De La Salle University
Account Number: 120-1147119
For off-campus donation (dollars):
Account Name: De La Salle University
Account Number: 01-120-300035-8
Swift Code: UCPBHMM
For web-based donations: Visit Philippine Disaster Relief (project # 3916) being implemented by De La Salle University. You may use this facility for your credit and debit card donations.
For more inquiries, please contact Mr. Joseph Rosal, Coordinator for Community Engagement, COSCA at +63 2 525 4267 or local 147.
La Salle Green Hills
La Salle Green Hills will be accepting monetary donations starting Monday, 11 November, for the victims of super typhoon \"Yolanda\". Kindly course your donations to the Lasallian Mission Office or the Accounting Office. For check donations, please make it payable to LA SALLE GREEN HILLS – CALAMITY FUND. For more information, you may contact Mr. Eugene Young of the LSGH Lasallian Mission Office at +63 2 721 2000 local 350.
DE LA SALLE ARANETA UNIVERSITY
DLSAU is accepting monetary donations for the victims of super typhoon Yolanda. Please see bank details below:
Bank of Commerce
Account name: De La Salle Araneta University
Account number: 001-00-000868-7
Kindly email your deposit slip to Mr. RJ Angeles at raejyn.angeles@dlsau.delasalle.ph or fax it to +63 2 330 9125.
UNIVERSITY OF ST. LA SALLE
USLS is accepting donations of relief goods (food, water, clothes) or cash. Drop off points are at the 2nd gate security office, Balayan, Center for External Relations and the Institute for Negros Development.
For inquiries, please call +63 34 434 6100 local 218, 122, or 133.
DE LA SALLE LIPA
DLSL is accepting monetary donations through the relief efforts called "Mission: Yolanda" organized by the Student Affairs Office and the Community Involvement Office. You may give your donations to the SAO and CIO offices beginning Monday, 11 November.
Ref: DLSP
http://delasalle.ph/news/2013/11/10/one-la-salle-relief-drive-yolanda
I am appealing for you generosity and support. Any help will be greatly appreciated.
Please let me know of your support so that it can be properly acknowledged.
Thank you again my friends.
In St. Lasalle.
Henry R. Atayde
President
UMAEL 2011-2015
enrique.atayde@yahoo.com
+63 917 7923720
www.umael.com